We are incredibly grateful to the South Lanarkshire Renewable Energy Fund, who recently awarded us £1,800.
The ongoing pandemic meant we had to cancel our Annual Concert, which as well as being our main performance of the year, it is also a vital fundraiser to help us keep on doing what we do. As a community not-for-profit organisation we rely on membership payments, donations and concert income to cover all our costs.
The prospect of losing out on the income of our Annual Concert was a daunting one, but this is a very welcome funding boost from the Covid-19 Third Sector Resilience Fund, which was set up as part of the wider Renewable Energy Fund.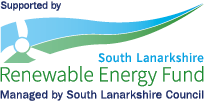 More information about the Covid-19 Third Sector Resilience Fund can be found here.
Categories: None